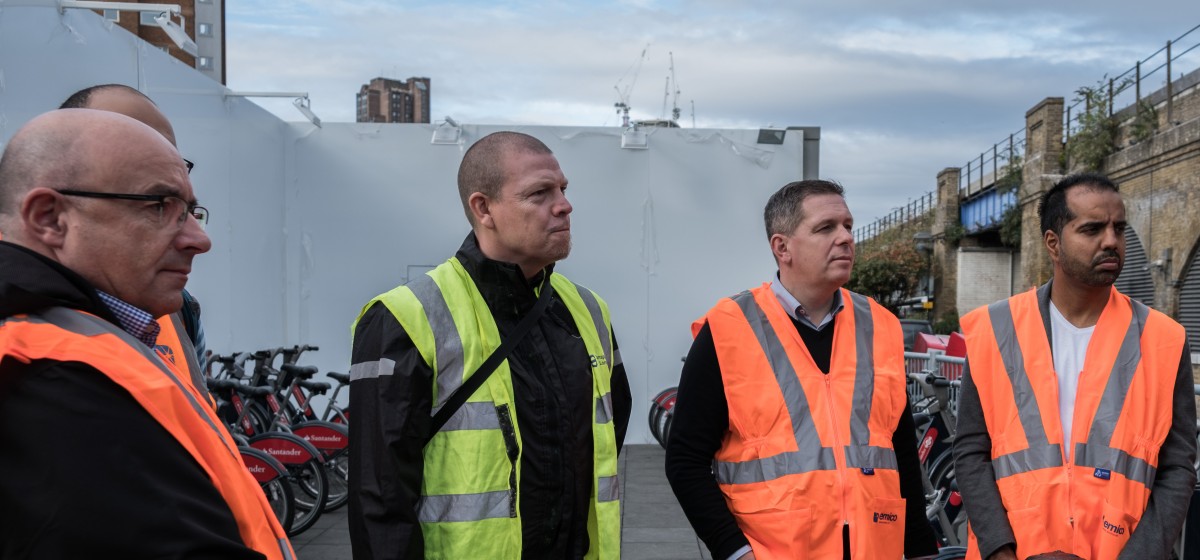 London is growing at the rate of two "Tube" carriages of people a week with engineering and construction work being a vital part of supporting the capital's growth and success. At the same time, cycling has become London's fastest growing form of transport, with the number of journeys by bike almost tripling since the year 2000. Walking is also being pushed to the top of the transport agenda, with the Mayor Sadiq Khan's goal of creating "Healthy Streets" where people choose to spend time and are able to use active and sustainable forms of transport. It is therefore vital to make sure that the ever increasing number of Londoners choosing to walk and cycle are safe when going past the many roadworks and building sites across the capital. On 12 October 2018 Emico joined TFL's Impact Assessment Manager, Michael Barratt, for a 'constructors cycling experience' to see how collaboration, good design and planning can minimise the impact of construction works for those walking and cycling in the area.
The experience highlighted the challenges faced by vulnerable road users, for example when footpath or cycle path diversions force them into flowing traffic or the traffic and dust / noise that can be caused by HGV's near construction sites. The ride took the group across Blackfriars and Westminster bridges and near the London eye where a large construction site is located. On the way, Michael spoke about the importance of the Mayor's "Vision Zero" goal, which is for nobody to be killed or seriously injured on London's streets. A total of 3km was covered.
Michael has been working closely with the construction industry for a number of years to help companies better understand the challenges faced by vulnerable road users in the capital. As he explains…
"The Constructors Cycle Experience is an opportunity to get a better understanding of the importance to maintain safe working on London's roads. Active experiences are in my view, the best way to get a feel of real life situations such as cycling on the road, next to HGVs and through construction areas. It puts things in to perspective….
London's population is rising, and with that, comes a plethora of construction to build the infrastructure to cope with the associated demands. Developers and contractors have a focus to deliver these requirements and with added pressure to meet targets comes the risk of incident. To ensure our roads are safe, working collaboratively is the best way forward and to participate in methods that increase awareness of the potential negative outcomes from construction of high importance. Emico have approached our concerns with maturity and the team that joined me on the ride took the cycling experience seriously.
All I ask is that we work together to make London and beyond a safer place to walk and cycle during all activities. We are here to assist whenever you need guidance and I look forward to working with Emico in the future."
Emico remain committed in supporting TFL's vision of safe working in London. Thank you to Michael and TFL for the enlightening experience.